Picture this: You're sitting all dolled up in your Sunday best. The beautiful betrothed to-be is making their way down the aisle, arm in arm with their chaperone. The crowd stands, and everyone is speechless. The two partners lock eyes with one another in excitement and giddiness over every day they have spent together that has led them to this point. *CLICK*. At the exact moment when these two are about to say "I do," the screech of a party-goer's cell phone interrupts this peak moment. Okay, yeah. Here's how we're NOT going to be THAT person.
Put your phone away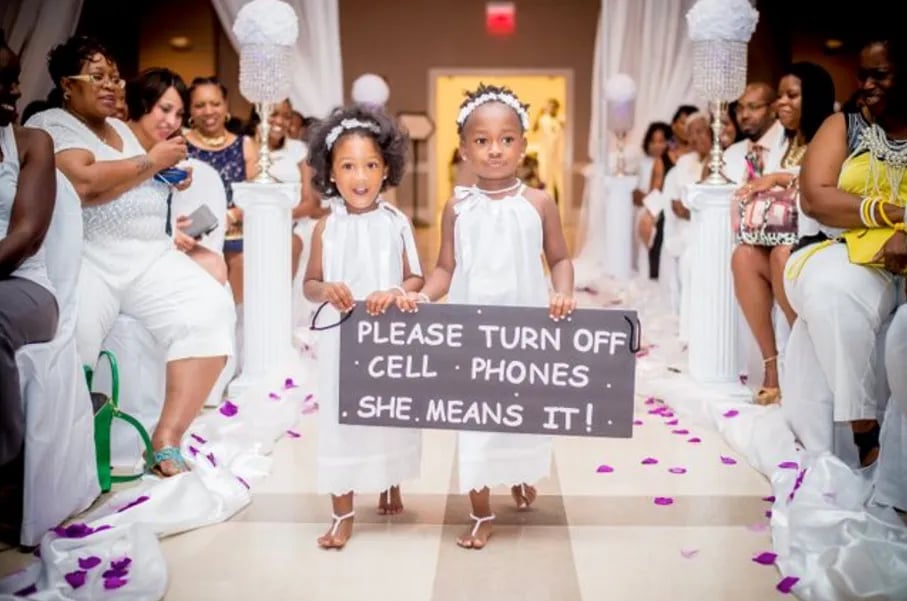 Yes, we all want to make sure we get the Instagram-able moments and tiny details of this beautiful day. However, make sure that you check in with the wedding party to ensure you're not spoiling the moment or the event. Turning your phone off, focusing on the present moment, and soaking in the day is the best way to make sure you're not spoiling all the fun.
Utilize those hashtags
Check in with the wedding hosts and make sure you're using the wedding hashtags! There are plenty of wedding parties that have specific social media etiquette they would like their special day to follow and yours could be one of them. A specific hashtag lets the wedding hosts see exactly what went on during their big day while they were busy tying the knot.
Steer clear of the paid photographers
You are there as a guest, not a photographer! Stay out of the way of the paid professionals so the happy couple can get the optimal pictures they paid for. Yes, your pictures are important (again show-off with that hashtag!) but don't be a hindrance to the photo-ops. Follow the social media practices that the wedding hosts outline for you and they will love you forever — we're sure of it!
Check those images
We know, we know. You look great in that photo, but don't be a bad friend! Make sure the people you're taking pictures with are digging the selfies as much as you are. No one likes a flop, so make sure your picture is "okayed" before it hits the 'gram. We don't want anyone to lose any friendships.
Again, following our social media etiquette best practices is a sure-fire way to avoid that ghastly scenario we so eloquently set up for you. Need help spicing up the photo opp areas of your special day? Just give us a shout!