We can all agree the Great Lakes region is home to some of the most beautiful vista views in the country. From Sleeping Bear Dunes (which was voted "America's Most Beautiful Place" by ABC) down to South Haven, there is an abundance of venue options for those looking to tie the knot on the beach. Today, let's take a look at just a few of what the Michigan lakeshore has to offer those in search of the perfect venue.
Travel on up to the tip of the mitten and enjoy the wonderful sights of Mackinac Island. Mission Point Resort has the perfect view overlooking the straits of Mackinac. Incorporate your big day with our linens, table settings, and accessories. With spa services, various locations on-site for the ceremony and reception, and a helping hand with wedding vendors, Mission Point will have you covered!



Located in Muskegon right on the water you have access to catering, a cozy space, and views. Not only does this venue offer reception packages and size accommodations, but your party attendees can also hit the lake post-reception if they so choose. There is no opportunity better than combining your favorite beachfront accessories and additions to this nearly perfect setting.



If you know a thing or two about this all-inclusive city, you know that it would be amazing for any couple to have their special day here. Enjoy a lively drink and social scene in the city of Saugatuck with the Saugatuck Center for the Arts. If you're an artsy couple or a lover of the arts, this just might be your spot! With a multitude of photo-worthy opportunities at the venue both natural and curated, there are loads of places and spaces to make your wedding as authentically YOU as possible.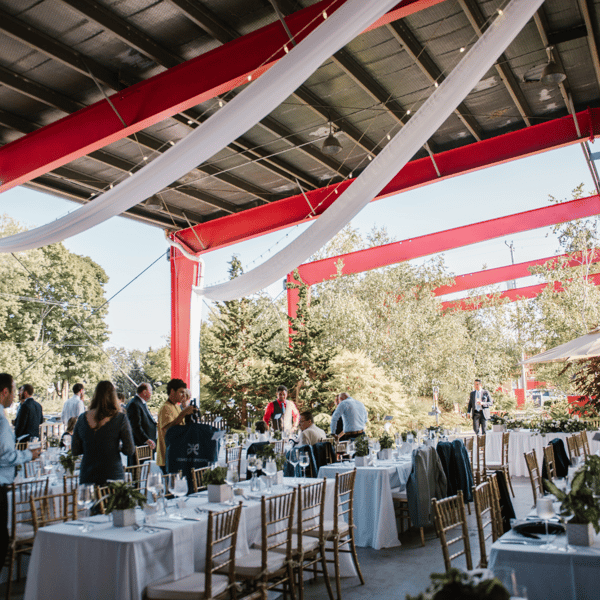 With sand on your feet and wind in your hair, there's no chance you'll regret Bay Harbor. Positioned right on the lakeshore between Petoskey and Charlevoix, Bay Harbor offers the views you are looking for and the small-town charm that will impress everyone on your big day. With on-site suites and vacation homes, you can have the whole wedding party enjoy the great lake, beautiful weather, and all of the sites together before walking down the aisle.
With all of the ways that you overlook the lake, who wouldn't want to go with this must-see location? Add an archway addition so your guests can view you and your betrothed right in front of the lake. Incorporate the wedding on the water aesthetic, and have fun in this tasteful yet youthful space.
Lakeshore weddings don't have to be the same as the next. With these gorgeous venues, our rentals, and your party planning expertise, you'll have the picturesque wedding of your dreams at your fingertips. Need assistance making those Pinterest pins a reality? Give us a shout and we will be there to help!